Jan

15
Tags
Related Posts
Share This
PORN 'SHE HOLDS MY WILL'
PORN
'SHE HOLDS MY WILL'
video for song from new album
'THE OGRE INSIDE'
available now
[Les Disques Rubicon]
[embedyt] http://www.youtube.com/watch?v=ILvSd4wh7gg[/embedyt]
The French industrial-goth metal group Porn released their third album,'The Ogre Inside', in October.
'She Holds My Will' is the fourth promo clip to be filmed for songs from it. It was made in Switzerland
 by Matteo VDiva of VD Pictures, who also shot the clip for the song 'You Will Be The Death Of Me'.
Band leader Philippe Deschemin explains : "'She Holds My Will' is a song about love, death and sex.
It is probably the most catchy song from the album but also the most subversive in that it describes
a bondage/S&M relationship. The video features Hojōjutsu performances, better known as Shibari 
(or Kinbaku), an ancestral Japanese bondage art. As with love, which can be both a creative and 
destructive force, this Japanese art is two-sided and Hojōjutsu can be used as an erotic game and 
as a weapon. When it comes to eroticism it's called Kinbaku-bi, but the first use of this technique
came from the martial art Hojōjutsu, which is the traditional Japanese art of restraining or killing a
person using cord or rope."      
The concept of the new Porn album, 'The Ogre Inside', is based on a sci-fi novel entitled 'Contoyen', 
written by Deschemin and published in 2014. From the 90's industrial rock sound of album opener
'Sunset Of Cruelty' right through to the brooding goth-metal atmosphere of the title song that ends
the record, the group take the listener on a journey into the darkest corners of the mind.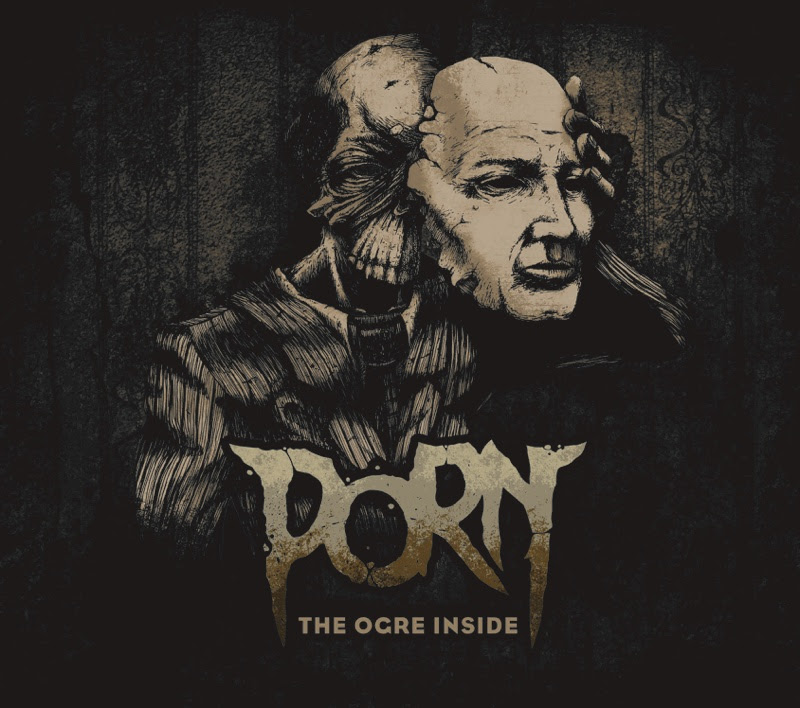 Named after the classic 'Pornography' album by The Cure and influenced by early 80's electronic 
noise exponents such as SPK and Esplendor Geometrico, the 80's/90's dark rock lineage of
Bauhaus, Fields Of The Nephilim and Type O Negative, plus post-punk and industrial rock/metal 
acts such as Killing Joke, KMFDM and Marilyn Manson, Porn formed in 1999 when psychology
and sociology student Philippe Deschemin decided to start a band. His mission was to create
aggressive yet sexy, powerful, dark and dangerous music : "something like a beautiful, tasty fruit 
with a razor blade inside." 
The band released its debut album in 2004 and an EP a year later, which are currently available 
together on the collection 'A Decade In Glitter And Danger'. These were followed by a second
album in 2011 entitled 'From The Void To The Infinite', plus the 2015 covers and remixes
compilation 'Deconstruct', which followed the publication of Deschemin's first novel, 'Contoyen'.
Deschemin is also a member of the group An Erotic End Of Times, who released their own debut 
album in the spring of 2017. Aside from his musical and literary career, he is a visiting lecturer in
political philosophy, a journalist and publisher.
PORN
Philippe Deschemin : vocals, bass, guitar, synth, drum programming
Mehdi Desoeuvre : guitar, bass
Erwan Frugier : synth, guitar